Chernobyl city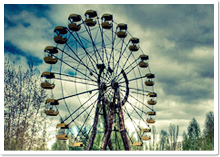 Chernobyl attracted a lot of film directors, on its lands many movies and plots were filmed. Even nowadays mass media writes about the destiny of this mysterious lost city. There is a lot of information and photographic materials in the Internet, but human curiosity is so great that every year a number of people wishing to visit Chernobyl and see everything on their own eyes and to feel this atmosphere increases several times in comparison with the previous years. After the scary tragedy which happened in 1986, Chernobyl became a prohibited zone. Nevertheless, 20 years later the gates of a mysterious place became open for tourists. Trips to Chernobyl is the only way for those who want to touch the history which shook the whole world. So our company offers you such kind of Chernobyl tours.
Check out of what we offer in your tours in Chernobyl and Pripyat as well: Chernobyl tours, Pripyat tours.
Read also: Is it safe to visit Chernobyl?