Pripyat tours
What to expect from a Pripyat tour?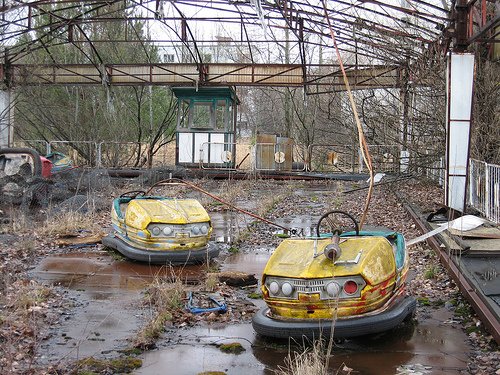 Pripyat reminds the ghost city which is forgotten and thrown.
Having made a tour to Pripyat, you will be able to dive into the city atmosphere where it seems that time stopped for long 30 years.

In houses, hospitals and schools all these years lie not movably thrown things and still nobody touched them.

Life in the ghost city Pripyat stopped as soon as the last inhabitant was evacuated.

People ran away from their houses, leaving all valuable things.

Now everything that was thrown then still lies on the former places.
During tours to Pripyat tourists can visit:
The left apartments where the atmosphere of that time is completely felt. In many houses you can see calendars with that fatal date, on that day life in these houses stopped forever.
It is considered that the safest from radiation place is where the pool "Azure" located. At the moment of an accident the pool was closed.
Also in the city it is possible to see the highest building built in Soviet period and it is actually decorated with USSR symbolic.
A visit to kindergartens and schools bring many emotions to tourists. In kindergartens you can see the toys thrown on a floor, at schools there are copy-books and books of the 86th year everywhere.
In hospitals the bed linen and drugs is scattered.
In addition, Prometey cinema visit is also interesting.
It is worth visiting the mooring at the river, to see local hotels.
The main advantage of the city is a big amusement park. The big wheel became a symbol of the thrown city which is lonely seen practically from all corners of the city.
At night it is possible to meet a great number of wild boars in the city and in general, you never know what it is possible to meet there.
Having visited these places, you will feel as you are in another world.
As everything is on the cinema screen. But coming back home, sense of reality will return and a lot of people begin thinking on things they have never thought so globally before.
That is the reason why Chernobyl City tours to Pripyat are becoming so popular nowadays.
Pripyat group tour - $100 per person. The price depends on number of people.
To order your tour simply follow this link: Order Pripyat tours